MinuteBuzz is the most influential French media group amongst millennials. Their mission is to help change the world with happiness via entertainment. They have more than 10 million video visits every day and define themselves as a 100% social and video company.
Since 2010, MinuteBuzz has strived to become a true brand content and media partner. They have integrated services such as strategy consulting, creative studio, data analytics, PR and influence. They have also launched six different media brands, each one with their own innovation and purpose in entertainment, food, news and more.
They felt it was about time to share this evolution and expertise gained throughout the years. They decided to reach out to us for the conception of their brand new website.
Challenge
MinuteBuzz had owned a website previously and took it off to focus completely on their social media presence. With their services growing more and more, they saw the need to create a website where they could showcase ongoing and new campaigns as well as their success stories.
They wanted the new website and blog to be built with an inbound marketing methodology that could attract the right clients, something they were struggling to achieve on social. They also needed to connect with their personas and clearly communicate the scope of their services.
A key aspect was to integrate their content video from several social media pages into the website, without compromising on user experience and performance.
Solution
The first thing Markentive did was to organize a Kick off meeting to understand their business needs. The meeting was insightful and allowed the team to define the scope of the project and identify additional goals and needs.The strategy work carried out was key in the success of the website development.
The project roadmap was divided in three main phases:
Strategy: definition of personas, data model strategy, content chart, scoring, nurturing, and website RFP conception.

Implementation: wireframes, mockups, integration of the website on HubSpot COS, SEO, synchronization with the CRM (Pipedrive), and training on HubSpot Marketing and website management best practices.

Support and monitoring: marketing campaigns, HubSpot Marketing tool, SEO best practices, amongst others.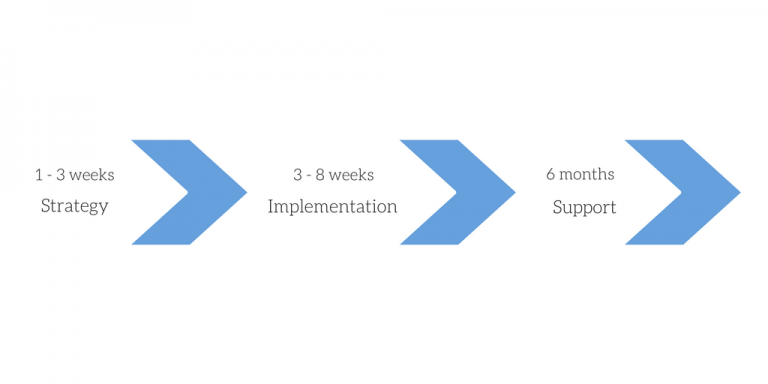 Concerning the website implementation, we proposed to integrate interactive modules that were easy to maintain by the client. For instance, the clients references block with each of their logos can be updated in just a couple of clicks.
Considering the great activity of MinuteBuzz in terms of video content, it was key to embed the content seamingly into the website. The visitor can play videos originally hosted on Facebook or Youtube without leaving the website and keeping page speed optimal.
Another feature we integrated was Messenger Chat to encourage real-time personalized engagement with visitors.

Results
The website was live on March 9th, 2018 and in this short analysis period, we are happy to share some of the great results achieved so far.
Most of the traffic sessions come from Direct Traffic, followed by Social media.

Traffic from mobile is quite significant, reason why it was important for us to achieve an optimized responsiveness.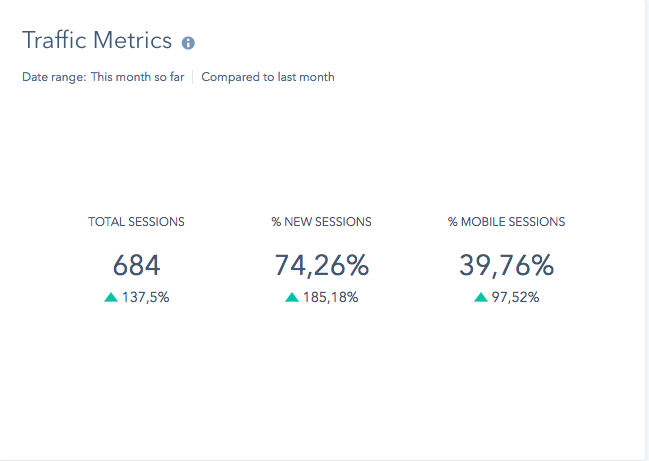 The top blog posts in terms of views attract quality visitors to the website.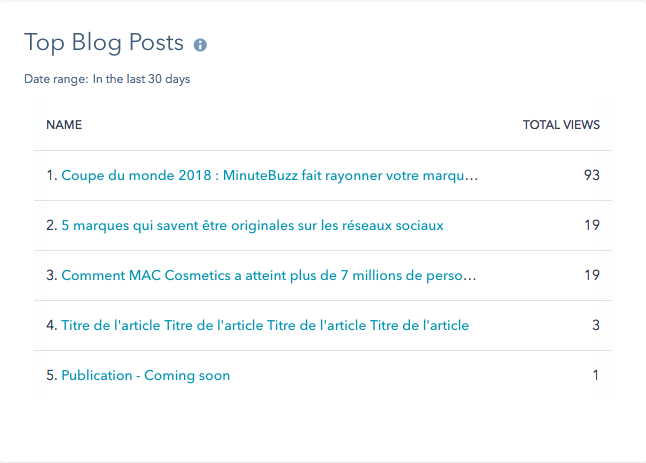 The website has been live for only a month, but we've decided to share our story anyways. Some website projects can be long and painful, but this doesn't always need to be the case. The website and inbound efforts have already had an impact in such a short time.
Check out what the client has to say:
The Impact

The following interview features Adrian Oliveira, Inbound and Social Media Manager at MinuteBuzz.
What were the objectives of this website project?
We previously had a website that we decided to delete completely to focus on our social media presence. We were missing a space to showcase our work to prospects and clients. We decided to create a performing website that integrated multiple features while keeping the business objectives: attract and convert marketing and communication professionals in clients.
How did Markentive help you reach your objectives?
Markentive proposed us a design that corresponded to the concept we had in mind. In terms of integration, Markentive was able to offer us solutions adapted to the problems we encountered, sometimes pushing the limits of HubSpot to better serve to our needs.
What were the features you wanted to see in the website?
We wanted to see video as a key focus on the website, fluidity, interaction with the user while communicating our brand identity at the same time. One of the pre-requirements was to have a high performing website. We also wanted to present thoroughly our two main solutions: La Fusée Électrique and Media Brands.
Do you find it easy to make updates on the website?
Content modification is quite intuitive in the website. Some modules are more complex than others, specifically when such modules are part of a design that cannot be natively integrated via HubSpot. These modules represent a minor part of the whole integration.
Would you recommend Markentive for a similar project?
Markentive was able to systematically propose adapted solutions in all marketing, design and integration aspects. We recommend the agency for inbound marketing, design and integration needs.
Were you satisfied with the final results?
We are very satisfied with the final results provided by Markentive. The website was functional, attractive and performing. We are currently finishing the publication of some content, but we can already see results since the website is live.